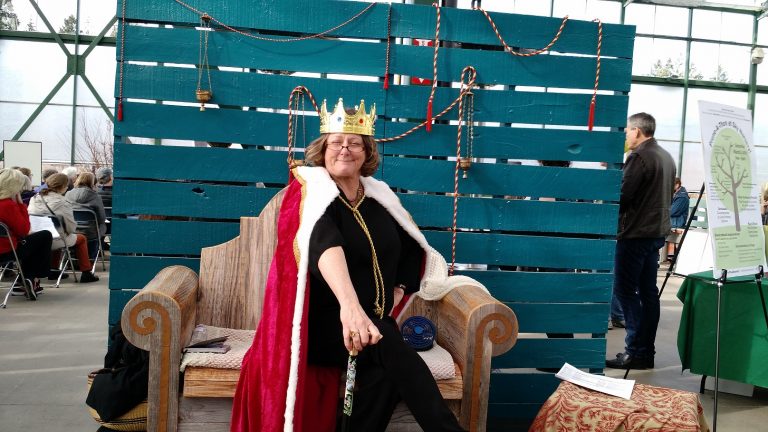 On January 25, 2017, the trees of our world lost a relentless ally. Cass Turnbull, a long-time horticulturalist and pruning advocate unexpectedly passed on from our world while on vacation in Hawaii. Cass was (and still is) one of our favorite humans. Her dedication to "ending plant mutilation" and engendering respect for plants led to an incredible organization called Plant Amnesty that offers accessible pruning education and one of our favorite pruning and gardening referral services for the PNW.
Cass authored one of our bibles here on the Garden Hotline, Cass Turnbull's Guide to Pruning (…we have all the editions), and was a teacher and mentor to many in our region's horticulture community. Her no-nonsense, down-to-earth nature, coupled with an exquisite sense of humor, made for a memorable learning experience every time. For just a taste of her style, we offer you this excerpt from the introduction to her latest guide:
"I suspect that soon after man emerged from his cave with the first cutting tool, he whacked a limb off a bush, and it felt good. Bad pruning (what I call mal-pruning) accounts for 80% of all the work done by homeowners and professionals alike. And this sad state of affairs has persisted for decades. It was as if I were a member in a small secret society of people who somehow knew how to prune. We were doomed to watch helplessly as the rest of the world crashed through the greenscape with tools of destruction in their well-intentioned mission to restore order to their yards…People wasted so much time and money, cutting in ways that would eventually make their plants unhealthy, unpretty, unmanageable, and costly to maintain. It was just crazy!"
Needless to say, Cass is sorely missed. Our four educators gathered to share our memories in honor of her passing:
From Laura:
I have known Cass for many years – spanning time we were both gardeners with the City of Seattle and through decades of practicing horticulture in Seattle. I remember when Plant Amnesty arrived on the scene – the humor and passion that her spirit imbued the organization with was so welcome and refreshing. There is a gap in "The Force" with her passing.
From Sue:
I first heard about Cass when I was a volunteer. Meridian Park was a field day site for the Plant Amnesty Master Pruner's program. Katie Pencke, the garden coordinator at the time was excited about her coming and I realized that a true rock star in our local horticultural world was coming to help us. I don't remember when I bought her book, but it has gotten more use than any other book on my shelf. I know that I am not alone in thinking when it is time to prune a tree or shrub, "what would Cass do?"
From Melissa:
I met Cass Turnbull many years ago as a Bookseller Lead and Liaison for Barnes and Noble.  I was tasked to greet authors when they came in to do a talk about their most current book and organize their talking event. I learned about her organization, Plant Amnesty, when she came in to talk about her book, Guide to Pruning.  She was so passionate about her mission to right the wrongs of trees that she inspired me to incorporate that mission into my dreams of being an environmentalist.  I have many influences from local gardeners, but she was truly a celebrity idol in my eyes.
From Katie:
I crossed paths with Cass a few times at Sky Nursery at Plant Amnesty's Prune-a-Thon event. I worked in Sky's Greenhouse at the time and remember how brilliant of a speaker she was, how she made pruning so accessible to all folks and had such a badass but silly demeanor that made some of the most stubborn non-believers start to change their ways. Working on the Hotline, I had the pleasure of delving deeply into her writings and sharing her thoughts on pruning with a wider audience. Thanks to her book, I've also been able to persuade my own stubborn family members into a healthier relationship with trees and shrubs. Every time I see mutilated plants, I will always think of Cass and how she would have laughed.
For more information on Plant Amnesty's programs, which include pruning education, pruning/garden referrals, an Adopt-a-Plant matching service and more, please visit their website at www.plantamnesty.org. Consider becoming a Plant Amnesty member or offering a donation in Cass's memory to help keep this valuable programming available to the horticultural world. The trees thank you!