The Pacific Northwest is a special and unique place on the planet. We are blessed with thick coniferous forests in mountain ranges that store our water and keep it clean. We have shoreline galore, from Pacific ocean beaches to the Salish Sea borders. We host a river through our largest city with more creeks and rivers feeding into it and the large lakes we live around. Even in our sprawling urban spaces we make room for green, in green infrastructure, parks and protected wild areas. One of the best things about the northwest is the plethora of urban backyard or community gardens that are interspersed through the region. As gardeners who oversee these personal urban oases we have a responsibility to manage them without using products that can contaminate the greater environment. Keeping your personal gardens "green" helps to minimize the effects of pesticides and fertilizers on our local waterways and thus on local flora and fauna, including ourselves.
Winter is a wonderful time to reflect on your garden. Take time to assess the way things went over the growing season and identify areas where you want to change something or celebrate a great outcome from the past season. Make a list of these to use to build a plan for next season. Include ways to reduce the need for chemicals; make a commitment to try gardening with minimal inputs.
Planning for the Garden
Use only slow release natural fertilizers for your lawns next year – avoid products that mix herbicides into chemical lawn fertilizers. Chemical based fertilizers don't encourage the natural soil biota to flourish in your soil. They can wash off into storm drains and creeks, carrying excess nitrogen, which causes algal blooms in local waters, depriving fish of oxygen. Natural, slow release fertilizers work with soil to help feed the biota which in turn help feed the lawn.
The herbicides in combined fertilizer and herbicide products is also problematic when it seeps into groundwater and gets into local waterways. Try hand removal of the offending weeds when the soil is wet, making it easier to pull. Be tolerant of daisies and clover which don't outcompete lawn grasses and add color to the lawn. Clover actually feeds the lawn by creating nitrogen in specialized root nodules, which when disturbed release into the soil. Daisies provide early food for bumble bees as they emerge in the spring.
Identify areas you can leave a little "messy" to encourage overwintering beneficial insect larvae in your garden. Hollow grass stems might be hosting mason or leaf cutter bee larvae which will hatch out next growing season and keep your garden pollinated.
Don't be too hasty to trim the dead flower heads that are full of seeds. This provides winter food for, finches and sparrows, chickadees and flocks of bushtits and many other overwintering birds. Wait till early spring to remove them, when there are new food sources in the garden for birds. Keep a watch to see which birds visit which flower heads and plan to add more of the ones most popular to the garden.
Plan for birds by making lists of good plants to attract them. Visit our resources page to find the downloadable tips on 'Bird Friendly Plantings' to get ideas of what to include.
Are you a vegetable gardener? Make a plan for the upcoming season, keeping crop rotation in mind to avoid issues with pests and diseases. Call us to get advice on specific crops.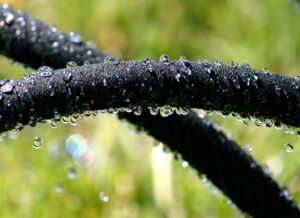 Assess your irrigation system or plan for one if you need it. Look at drip systems or think about using soaker hoses to help minimize water use and reduce your summer work load.
Working in the Garden
Planting in the northwest is possible throughout the winter as long as the ground is not frozen and you are comfortable working outside. Many nurseries carry plants throughout the winter that you can purchase and plant that are great for birds or insects. Make a trip to a local nursery during the slow days in January and find some gems to add. Getting them in during the rainy season helps them develop a good root system to prepare for leaf and stem growth in the spring.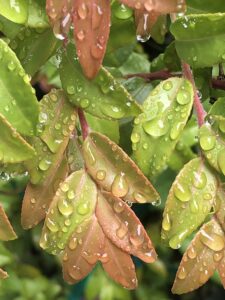 Rake leaves off your lawn as they fall. Some winters, leaf drop takes months to finish and you don't want to smother your lawn over the winter. Use the leaves in your surrounding shrub and tree beds or save in burlap bags over the winter and use as needed for mulch next growing season.
Aerate the lawn if the ground is not frozen. We generally recommend this as a fall activity but anytime over the winter is ok when the soil is moist.
Trim foliage out of or remove vegetables or flowers that have frozen and won't regrow. Put into your compost cart or backyard bin.
Topdress veggies, annuals, and perennials with compost to keep the soil temperature warmer around your plants. Add wood chips to shrub and tree beds. Be careful to not pile mulch up against woody plants – see our YouTube video about this topic.
Trim pieces of Sarcococca after they have set buds and put in a vase inside to force to bloom. The sweet fragrance will cheer you up on a dark, rainy day.
Trim from Forsythia or early blooming plum or cherry trees in late winter to force indoors.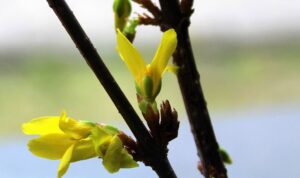 Add wind chimes to the garden.
Photograph plants in their winter phases, begin a photo album to add to with other seasonal displays.
When the days are very frosty and frozen avoid walking on your lawn or working with the foliage of your plants. Don't prune. Let the plants rest and endure the cold. If you feed birds, keep their food thawed and clean and enjoy them from the window. This is their time in your garden.