The Pacific Northwest spring weather is always a moving target. The old saying 'March comes in like a lion and goes out like a lamb' is a little backwards this year with much of western Washington vacillating between snow, hail, cold rain, wind and 60o F and sunshine! Interestingly, sometimes, especially here in the western United States, this reverse saying is more accurate. According to the article linked at the end of this seasonal tip our weather becomes particularly changeable this time of year because of the southward movement of the polar jet stream. Knowing we are all anxious to get out and garden on those 60 degree days here are some things you can do in those sunny moments in the garden!
Divide your goals into small doable tasks that can be done during sunbreaks. Working at home? Take a fifteen minute break to weed out the pots on your patio. Getting the little simple things done will make you feel great!
Be careful working in wet soils and if your lawn and beds are soggy, WAIT TO GARDEN IN THEM, even though you are dying to get things done. Working in wet soil can really damage soil structure. There will be time to catch up.
Starts plants in small containers inside and get them started before setting them out to avoid slugs mowing them down. Or be prepared to set out slug traps with baker's yeast and water in a small container sunk into the ground. Leave a lip of about an inch in height up out of the soil to prevent black beetles from falling into the traps. These friends eat baby slugs and slug eggs. Once the cup is full, dig a hole and dump the slugs and yeast water in the ground and cover it up. Start with a fresh batch of yeast water. You can use beer too, and if you are particularly generous can buy them a fancy brew to entice them in to the cup.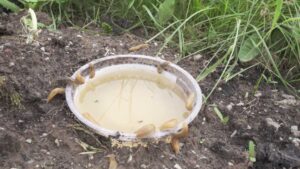 What can you plant directly in the veggie garden now? Peas, onions, mustard, radishes, arugula, lettuce, cilantro, mustard, bok choy and other cold hardy greens are perfectly ok to be planted right now. They don't need super warm soil temperatures though they are slower to germinate if the soil is cool. Check out our article on digital tools for northwest gardeners to find out what soil temps seeds prefer to germinate and how to read weather station data to see what soil temps are in your area. Perennials like strawberries, fruit trees, fruiting shrubs, perennial woody herbs like rosemary, lavender, thyme, etc. are great choices to plant right now. This includes landscape plants too! Woody plants will appreciate the warming soil temperatures and rain to soak into their newly growing roots. Plant a few pots, or part of the raised bed, or just focus o none shrub bed at a time.
Protect veggies with cloches – this not only shelters them from drops in temperature but also warms the soil up and speeds germination. You can make a cloche with plastic tubing and greenhouse grade plastics. Slide the tubing over cut pieces of rebar to hold it in place, spread the plastic on top and fasten with binder clips and support the arch with a rigid plastic plant stake zip tied to the top of the arch.
It's ok to prune roses now – we time rose pruning to when Forsythia is blooming and rose leaves are beginning to emerge. Learn the best rose pruning practices for the TYPE of rose you grow. Not all roses are pruned the same. Some are pruned minimally. Get them off to a good start so they don't become thorny thickets that are disease prone and harder to manage in the summer when they are fully leafed out and blooming.
Mulch your beds! Spring weeds are quickly coming into flower and soon will be sharing their thousands of seeds into our garden beds – an annual weed uses seed dispersal as its main method of propagation. Keep ahead of them! You should be seeing weeds like Herb Robert (Stinky Bob) aka Geranium robertianum in full growth mode right now. Cresses are present now and starting to bloom – Cardamine sp. are very common and can colonize any empty garden patch in no time, including setting seeds for the next few years! Fun fact about our little cress friends is that they belong to the same family as cabbage and radishes and when you pull them you can use them for salad that night!
All of these tasks can be done in a short amount of time, take it bit by bit, and before long your yard will be warm enough for you to spend the whole day out there! Call or email  if you have questions.
206-633-0224   email us
https://www.cnn.com/2021/03/02/weather/weather-proverb-march-lion-lamb/index.html