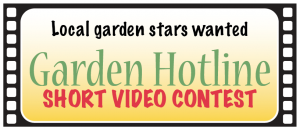 DEADLINE EXTENDED! Videos due by Friday, June 24th!
Share your natural lawn and garden care know-how! We're looking for gardeners of all skill levels to star in the Garden Hotline's budding YouTube community. Make a short video and you could win great gardening and film prizes. The grand prize winner will have their film screened at the Northwest Film Forum this fall and will join a Garden Hotline educator on the "Gardening with Ciscoe" radio show on Saturday, July 16th! Anyone from beginners to master gardeners can participate!
View our latest video for ideas – and subscribe to our channel!
The Garden Hotline offers individualized solutions to garden problems that are practical, safe, effective, and natural. Our services are FREE to home gardeners and landscape professionals throughout Seattle and King County. We can help you reduce waste, conserve water and resources, and minimize chemical use while creating a vibrant landscape.
Featured Resources
Natural yard care resources from our  sponsors' websites: Seattle Public Utilities, the Saving Water Partnership, Cascade Water Alliance, Seattle and King County's RainWise Program and the Local Hazardous Waste Management Program in King County.
Brochure (PDF)

Find out if you qualify for a rebate for installing a rain garden or cistern, and find contractors to do that work, at RainWise Tools.